During the week of 12 November 2023 in the Anglican Church of Canada cycle of prayer, we pray for the members of the Council of General Synod.
General Synod is the national church office, based in Toronto, ON. From anglican.ca: "The Primate, Archbishop Linda Nicholls, is our national pastoral leader and works from the General Synod office in Toronto, Ont. The national office is divided into departments, and their work is guided by volunteer Anglicans through committees and councils. The Primate is Chief Executive Officer of General Synod.
"General Synod is also the name for the national meeting of Canadian Anglicans, held every three years. Between these meetings the national church is governed by a smaller Council of General Synod that meets twice a year."
The Council is the executive body of General Synod. Some of its main working groups are concerned with anti-racism, governance, and responsible investment in and by General Synod.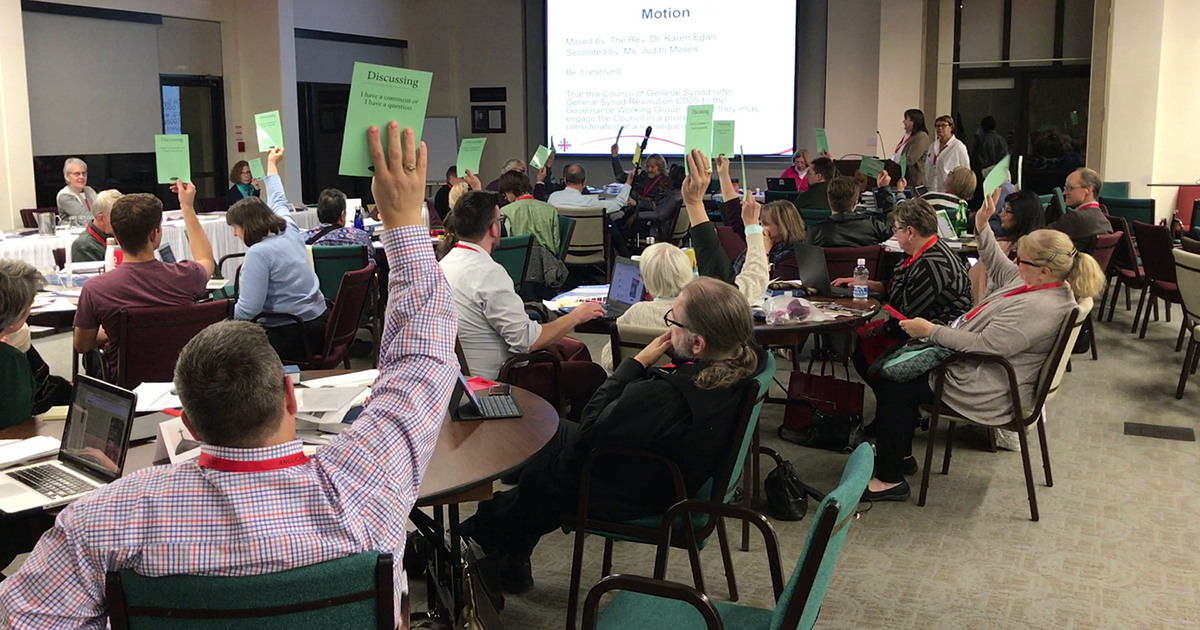 Members of the Council of General Synod (CoGS) vote on a motion. 8 November 2019, photo by Matthew Townsend on anglican.ca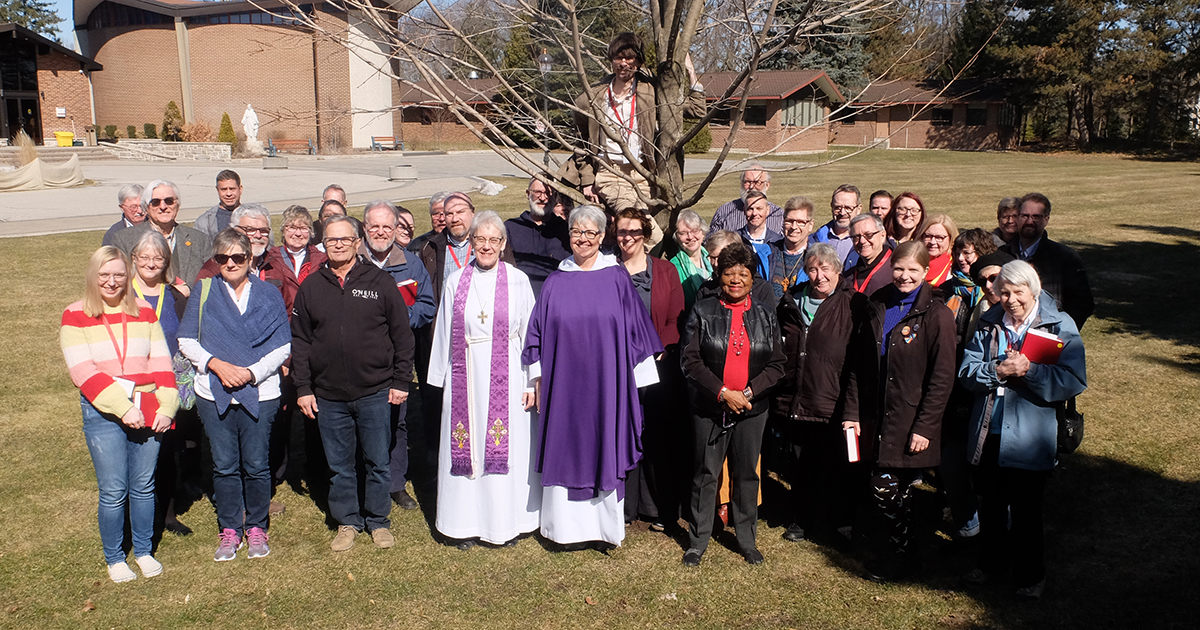 The Council of General Synod and National Church Council gather around a tree outside the Queen of Apostles Renewal Centre [Mississauga, ON] representing the full communion partnership between the Anglican Church of Canada and Evangelical Lutheran Church in Canada. 15 March 2020, photo by Matt Gardner on anglican.ca
Proceedings of Council meetings are summarized in their Highlights reports.
These national bodies based on the other side of the country can seem high up and far away to a local parish "out west" - but in March 2023 the Council of General Synod resolved to forward to General Synod several motions that will be significant in the life of the church at all levels:
receive and approve

One Flock, One Shepherd: Lutherans, Anglicans, and Moravians – Called to Walk Together in Full Communion

– the Declaration on recognition of full communion relations between the Anglican, Lutheran and Moravian churches in Canada.

authorize Deconsecration of a Sacred Building for use in The Anglican Church of Canada.
authorize Pastoral Liturgies for Journeys of Gender Transition and Affirmation for use in The Anglican Church of Canada.

authorize for use in The Anglican Church of Canada a contemporary language collect for Reconciliation with the Jewish People

commend the motion on Moving Toward Net Zero in the Anglican Church of Canada to General Synod 2023

reaffirm the commitment of our churches to the pursuit of peace with justice for all in Palestine and Israel
- among others! More here
Download the current Anglican-Lutheran cycle of prayer here
header photo: Archbishop Linda Nicholls, primate of the Anglican Church of Canada, delivers closing remarks to Council of General Synod. At far left is General Secretary Alan Perry, while Chancellor David Jones can be seen in the background at far right. The Rev. Karen Egan, prolocutor, is seated behind the primate. Photo: Matthew Puddister