At St. Philip Church, we believe the "sacred" includes all of life and that art is a means of comprehending that sacredness. The art we display may or may not be specifically religious; it is a sincere response to life and our experience of being human.
For May and June of 2021, we are displaying the works of Gillian Rhodes.
Artist's Statement
Art holds within it
The potential to change and deeply affect us.
To create and strengthen a luminous way of seeing.
Perhaps, Even,
Relate
To the soul of another.
In this series an ethereal sense of seascape vistas has been created, inviting a spacious personal interpretation of what the painting actually represents. This builds on the concept of how often, when viewing art, what remains as a response is the feeling created, whether through actual representation or simply through an emotional response.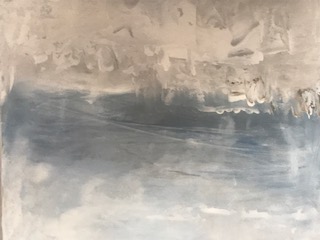 These paintings are focussed on a atmospheric depiction of sea, land and sky. As often seen in nature and particularly on the West Coast, the colour gray is used to evoke the emotional space of resting within a limited, hazy vista. This allows the landscape to blend together, verging on being without an image. Varying moods are created through the use of blues, violets and grays of warm and cool tones.
Gillian Rhodes